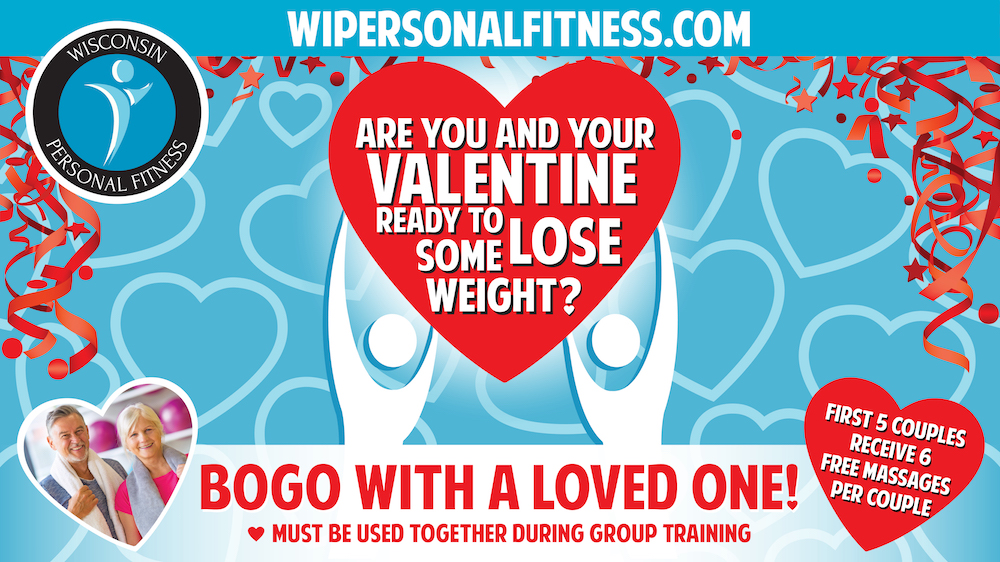 Take on a weight loss challenge together!
At Wisconsin Personal Fitness, you and your Valentine can push each other to see real results in no time! And if you hurry, you can take advantage of incredible savings and a chance at 6 FREE massages!
For a limited time only, we're offering couples Buy One Get One FREE access to our Group Training Program.
Sign up today and enjoy:
2 group workouts per week
Flexible nutrition plan proven to burn fat FAST
FREE post workout starter kit
Incredible amenities in our facility
Here's How It Works:
When you sign up for our Valentine's Day Special, you and your loved one gain access to this incredible group fitness program FOR HALF THE PRICE!
You'll take on total-body workouts over the course of 12 weeks that are designed to help you see sustainable results in no time. These classes can help you:
Burn fat and boost your metabolism
Build lean, toned muscles
Improve your heart health
Enjoy more energy and better sleep
Feel more confident than ever before
But don't wait until it's too late! We're only accepting 10 couples for this incredible program. Sign up today!
If you're one of the first 5 couples to sign up, you'll get 6 FREE massages per couple!
Give us a call or fill out the short form to reserve your spot today!